Body Fix - On the ball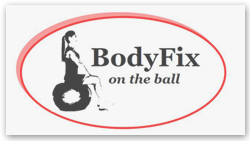 Body Fix classes are a mixture of Pilates, cardio work and weight-training, mostly done on the Swiss ball. They are set to music and are lots of fun! The aim of these classes is to greatly improve your posture and core stability while also increasing your general fitness. We especially target those Abdominal and Gluteal muscles (Tummy's and Bums!).
Classes are taken by an experienced Physiotherapist and there is a maximum of 6 participants per class, so you get plenty of individual instruction to ensure that you get the results you want. Better than having your own personal trainer but without the cost!
Exercises are adapted for any age, size, pre-existing injury or fitness level - so come along!
Only $20.00 per class (Bookings essential)
Current Session times:
| | | |
| --- | --- | --- |
| Monday: |   | 9.20am - 10.20am and 5.30pm - 6.30pm |
| Tuesday: |   | 9.20am - 10.20am  |
| Wednesday: |   | |
| Thursday: |   | 5.30pm - 6.30pm |
| Friday: |   | 9.30am - 10.30 am and 12.30pm - 1.30pm |
| | | |
| : |   | |
NB: If you get a group of 4 or more friends together we can try and arrange a time to suit your group!
Bodyfix - Wise & Wonderful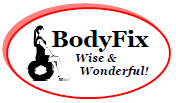 If age is getting the better of you - Fight back and Exercise!
Research has shown that exercise helps build bone density, tones up muscles, increases energy levels and reduces stress.
People who exercise live longer, happier and healthier lives. They also look younger and feel better. 
YOU ARE NEVER TOO OLD TO START!
So we have designed an exercise class specifically for the 60 plus age group (or for those people who want to get going a little slower because of injury or lack of fitness). These classes will help improve your posture, muscle strength and flexibility and increase your general fitness.
They are also fun and are set to music that you will enjoy!
Only $20.00 per class (Bookings essential)
Current Session times:
| | | | | |
| --- | --- | --- | --- | --- |
| Tuesdays: | | 11.45am | - | 12.45pm |
| Thursdays: | | 12.30pm | - | 1.30pm |
Posture Correction Package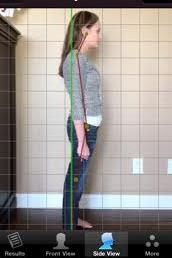 CURRENTLY NOT AVAILABLE 
Poor posture is the number one cause of musculoskeletal pain.
If you sit, stand and move in correct alignment you reduce the strain across all of your joints and muscles – as a result they function better, last longer and generally don't hurt!
If you need help with this – we are the people to see! 
The Posture Correction package consists of an initial 40 minute assessment including postural analysis using the latest software, a muscle balance assessment and a corrective exercise programme designed especially for you.
This is followed up by two 20 minute appointments in order to assess your progress.
 Perfect for any age including children.
Only $180.00 per class (Bookings essential)
Running Analysis & Correction programme
CURRENTLY NOT AVAILABLE
Do you want to RUN and not get injured?
Do you want to RUN faster and more efficiently?
Do you want to RUN for fitness but are afraid to start?
Then come and try our  running programme:
This consists of a  one hour individual assessment including screening of any pre-existing injuries,  a muscle balance assessment and video analysis of your current running style (if you have one)! 
Your will given advice on how to improve your running technique and provided with an individualised home programme in order to address any muscle imbalances identified.
This is followed up by two 20 minute reassessments spaced at appropriate intervals in order to monitor your develop your program.  
If your require further instruction beyond this point then appointments are charged at the normal treatment rate (see Appointments)
Only $180.00 per class (Bookings essential)